***IMPORTANT FOR ONLINE SHOPPERS AND SELLERS***
**Note, I started having problems with them since June. It never stopped.
I hope that an online shopper or seller reads this post. But most of all I want someone from Xend to read this.
UPDATE 2!!
I have jumpshipped to FASTRACK.PH and so far I have had no problems with them. They reply promptly BOTH Facebook and telephone calls. I haven't tried e-mail yet but so far they do reply. I am trying to get them to send me a text message of the LBC tracking number while it's available since I already know that with budget couriers, they really don't update the tracking status ASAP. Try this courier guys! Only 45php within Metro Manila.
UPDATE!!
An online seller has shared her experience and explanation as to why Xend is going loco these past months. Thank you so much for sharing!!! I hope others can do the same and answer my survey too.

"A few weeks before I left Xend, I noticed a delay in the packages. The rider who used to pick up my items from December 2011 did not show up for a month. I had another rider. At one point, that rider picked up my items at 12am! I wanted to shout at his face. I was about to sleep, then the rider called me up to say that he has finally arrived. I wanted to curse him. A few days after, I found out that my old rider left Xend, which is why he couldn't pick up my items. He told me that he had to leave because Xend does not pay him overtime. They were short of riders because everyone left. That is when I noticed why Xend had problems, they did not have enough riders. Everyone was quitting their jobs. My new rider told me that he is now working in Philfox Courier. He also mentioned that some of his co-workers from Xend had transferred as well. So my new courier now is Philfox.
Philfox is not that bad. Although, what I hate about couriers is that they never notify me when there's a problem with the package. Although I have bad experiences with Philfox due to delay in shipments, I can say that their services is good. Honestly, I just believe that there is no courier that can be perfect."
I decided to go straight to the point with the title. My Philippine online shopper friends would know what Xend it. Is is one of online logistics couriers in the country that offers really affordable rates. Imagine you just need 50php to send a shipment within Metro Manila while 80php to send provincial. That's just a dollar or 2 to send something with a tracking number and they pick it up from your residence (they didn't say that they would pick it up at 7pm or send your packages at 10pm but yes they do but of course I just want the shipment to arrive.) and it's supposed to be next-day delivery for Metro Manila consignees while 2-3 days for provincial. I was really impressed and have been using it although VERY INFREQUENT for almost 2 years now or so?
But this was before I had an online "store" myself. Once I started shipping regularly almost on a daily basis and dealing with customers, my priority was for the consignee to get their item on time. When I started shipping to provincial customers, I would suggest Xend to them because of cheaper alternative but some actually refuse and use my other more expensive but faster option, LBC (REALLY ONE OF THE BEST LOGISTICS COURIERS) since they have heard that Xend didn't ship their items on time. I being a skeptic thought, "Oh I'd never had problems with them before. This couldn't possibly happen to me."
Boy was I wrong.
Was I SO WRONG.
When those provincial customers that do try Xend ask for tracking number, I do give it to them, but after noticing that Xend IS ALWAYS LATE in updating their tracking statuses and SOMETIMES NEVER updates at all, my clients and I started to panic. I decided to send them my very first complaint over email and told them about my problem.
They never replied.
I tried their new online chat. Sometimes I get through, sometimes I don't and if I did, I had to wait 20 minutes for a single answer from the person. This was because I inquired how much the shipping rate was to some client and also if they accept packages sent in sacks/plastic bags just like LBC which I have to note, Xend DOES NOT. Xend will ask you to sign a waiver saying that they are not liable to whatever happens to that "sack" of yours. So I used LBC instead. I tried calling them up before for an update of tracking status but I had to make around 20 calls before I could get through. I then tried online chat again and asked why is their service so bad. The customer representative told me that they only have 3 people in this division. I don't know what she meant. Did she mean their are only 3 people taking calls, answering e-mails, checking support forums??
I couldn't believe how effed up their management and system were. I mean who in their right mind would only appoint THREE PEOPLE.
My mind was reeling from words… THREE… LOGISTICS… ON TIME… CUSTOMER SERVICE…
I got sick by the way for a week and I even had a hepatitis scare because of a viral infection. I think my stress over this was a factor of weakening my immune system. I THINK.
But I put up with Xend (oh my god you're probably calling me a dumbass already) even after the 1st, 5th, 8th instance of no-update-of-tracking-status-my-customer-is-frantic-already (and one time they didn't even go to my house to pick up the shipment
)and I tried EVERY means to complain (even facebook messages! They do reply there! initially they didn't). I had this naive thought of "OH IF I COMPLAIN ENOUGH, THEY MIGHT CHANGE." *smacks self on forehead at idiocy*
But this recent problem just made me realize that this was one of those "immovable wall against an invincible force" (i forgot exact quote) things and it was like hitting myself over and over again. I sent a shipment on Thursday to be shipped to somewhere in Metro Manila so it should arrive on Friday right? By friday night, I had to call my customer to appease her and tell her that maybe it will arrive at 10:30pm (coz they're weird that way) and don't bother checking your tracking status online, it won't budge.
Friday passed with no results…
I emailed Xend (and of course I did all the medium contacting thing again) and they replied that they "are sorry" (what does that mean, you mean they really didn't plan to send it on Friday? WTF) and that they will ship it on Saturday and expect it within the (Satur)day. So my customer and I waited…. and we're back to 10:30pm with still no sign of arrival. We were both furious as her bag is already broken and was really needing a new one and I at the loss of sale because she could have ordered more from me if it arrived on Friday so you know… we were both furious and at Sunday morning (good thing that this debacle didn't give me nightmares yet)
I decided to stop being a DOORMAT and stop letting Xend trample on me. This is to save me and my future clients more stress. I have already considered the possibility of wrong address but Xend USED TO call me whenever I have a wrong address and fixed the problem but now I have heard NO WORD ABOUT IT… I guess they wanted to piss me off more since I complain a lot? I seriously have no idea how they haven't memorized my name already because I have been complaining AGAIN AND AGAIN and they must have dozens of my conversations recorded already. And I have been sarcastic in our conversations in the end. I can't help it.
I am deeply sorry to my past clients who have had issues with Xend. I really apologize for not using the most excellent service for you. I always make sure to keep a good customer relationship because I have had so many problems with customer service before that I don't want that to happen to me and my client.
I will now change couriers and stick with LBC. If someone can please refer me to a cheap but good alternative, please help me. Thank you so much!
Farewell Xend, I leave now for my fellow online shoppers and sellers to discern if they want to continue to use Xend or try to use Xend. I will only go back if they fix this… service of theirs.
Thank you for hearing me out.
Some screenshots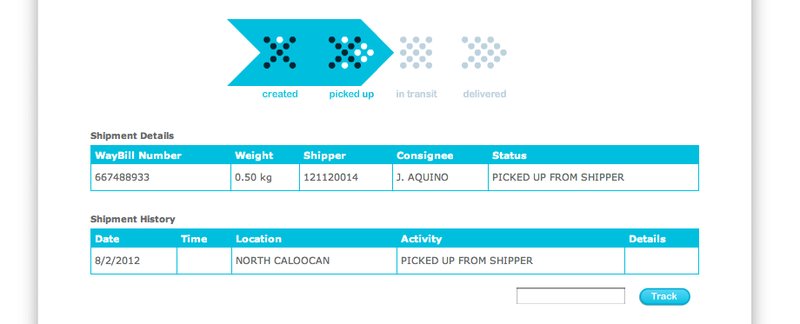 Tracking status NEVER UPDATED. Shipped last August 2, it is now August 5.


Their email and assurance that the package will arrive on August 4 (which it did not)
And if you would mind taking this survey and help me on this personal project? Trying to see which Couriers Philippine residents use the most! Just answer this REALLY SHORT SURVEY HERE.
Thank you!